At Louis Vuitton, Marc Jacobs is the element of surprise by abandoning its recent loves eighties, the benefit of a 100% merger craze.
The elegant uninhibited last winter and leave room for a generation of globe-trotting trendiest blend hype that Studio 54 ...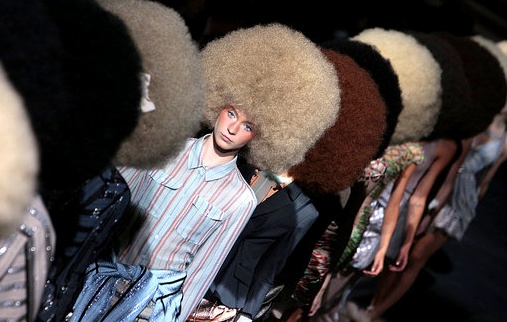 re bidding gallianesques worthy hair and fancy parades Japanese most azimuths, signed Louis Vuitton models have given to this month of fashion weeks the touch of madness that had been lacking until now.


Indeed, apart génialissime Alexander McQueen, designers have preferred to play it low profile, the risk of sounding slightly bored.
This is obviously not the case of Marc Jacobs who, true to his reputation continues to shake up the fashion, preventing this honorable lady asleep ...


In its styling mannequins wigs oversized afros - turns Jackson Five or Marie Antoinette - the designer set the tone: summer collection 2010 will allow all the extravagances, the most generous mixing influences.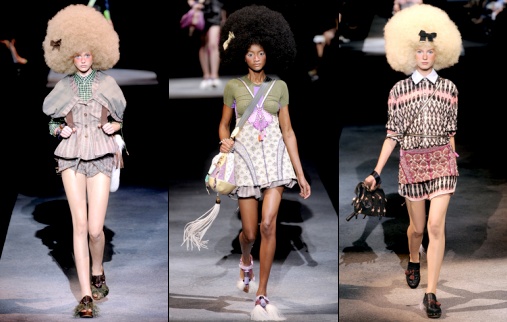 The looks of these neo hippie then akin to a kaleidoscope of ideas and images, born of their travel, meetings and findings.
Thus, the skirt tennis player denim worn with a cyclist in the Indian print dress preppy Pattern ikats, through the sage tweed jacket (shameless moves to large pockets borrowed parkas military), the stylistic origins are blurred
quickly, calling the new dress code for a fully cosmopolitan.


From this apparent cacophony still shows a leitmotif ultra sporty, which brings new life to the woman Louis Vuitton: whether playing Harajuku Girls denim monogrammed tie and dye, slipping into a dress girly and pink fringes involving barbie
or by threading a cyclist in his funky mini short, this insanely fun teen thirties, Throwing aside their lists and do not do ಫಾಶಿಒನ್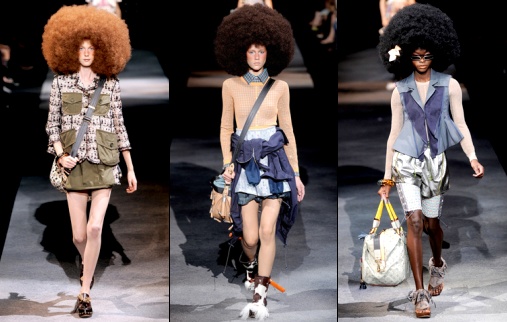 And if no one gets to look pure freestyle, Marc Jacobs did not forget to ensure all the finances of the trunk-maker in overdose accessorizing the show: not a dummy comes out because without his maxi bag Louis
Vuitton.
This season, it wants to turn backpack roots chic bundle oversize denim tie-dye monogrammed (or two-tone leather) or falsely casual maxi wallet, all accompanied by a stuffed tail to Davy Crockett.
..


Finally, we will not forget the famous kitten heels, Marc Jacobs turns singer in the fashion fusion.
Mini sculpted heels, tassels Yeti's hair, boots and moccasins way cuts up sportswear and shoes bordering on mockery, that Madonna be party may not ...